The Terra Minoika resorts take pains to make your stay both comfortable and full of experiences, so that you get the most out of every moment of your holidays.
W
ith respect to the Cretan diet and with high standards of care, freshly baked delicacies, dairy products, home-made marmalades and sweets, produce from the Sitia Geopark and our own garden await our dear guests at the breakfast area of the resort. After choosing their heart's desire, they can enjoy breakfast at their private veranda or our comfortable sitting areas around the garden, and then, full of energy, set off to explore the extraordinary spots of the area.
The ingredients for your breakfast come from the organic Terra Minoika garden, which is full of aromatic herbs, olive trees (a producer of extra virgin olive oil), citrus fruits, bananas, pomegranates, figs, apricots and from the family garden. Other produce comes from local farmers and the Sitia Geopark. The sweets are low in sweeteners and made with olive oil from Zakros, rich in polyphenols. We introduce our guests to petimezi (grape must syrup) and carob products. We promote the slow food trend and a low-fat and non-processed food diet. We hope that our guests will diversify their nutritional habits and incorporate the famous Cretan diet in their own.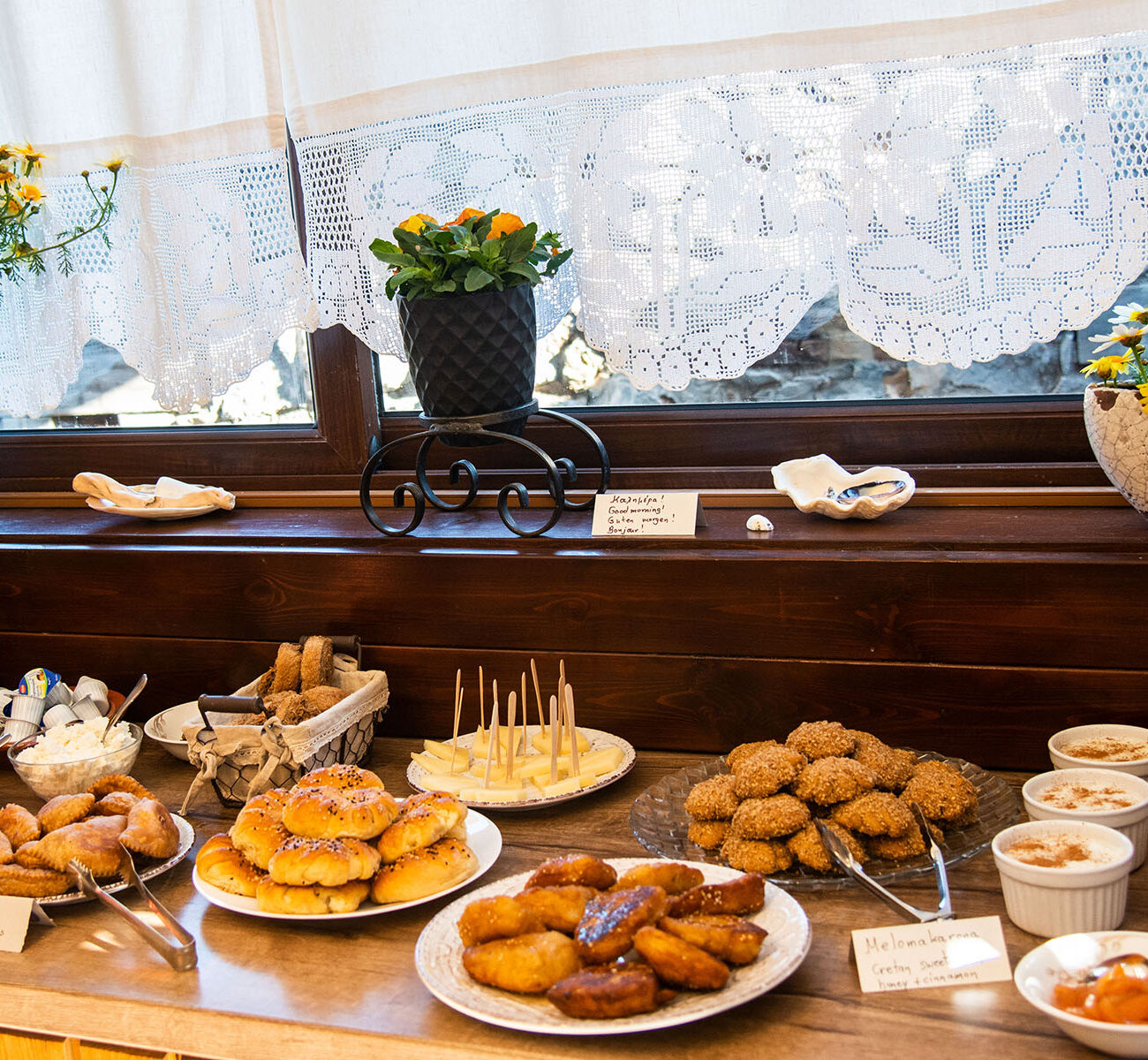 After breakfast, you can take the beach bags, the towels and the swimming gear that we provide and enjoy a dive into the crystal clear waters of the nearby beaches.
If you are a hiking fan, put on your trekking shoes and come to the reception desk for information on the graded hiking trails you can follow from Kato Zakros and those within the Sitia Geopark, under the auspices of UNESCO.
If you are an indoor activities fan, you can have your morning (or afternoon) training session with weights or just get up on the treadmill or use the yoga mat.
If you are the board game type, find yourself a co-player and head for the large chessboards at the specially created chess points.
If you enjoy quiet solitude, reading or relaxation, then you should opt for an armchair or chaise-longue or a hammock at one of the countless garden havens with a view to the enchanting landscape of the Kato Zakros bay.
If you would like to explore the Terra Minoika grounds, its art trail will be a pleasant surprise.
If you still want to offer yourself something extra, ask for our massage and beauty services list and enjoy your session at your balcony or somewhere in the garden.
If you ask for it, you will be provided with valuable information to help you find your way around the general area, its beaches, villages and sights.
What is more, those of you with a passion for dancing and Cretan tradition will find in Stella (after request) a professional teacher of traditional dances of Crete and the rest of Greece and you will have the chance to put your schooling to practice at the local panigiria (celebratory feasts).
Reception desk working hours: 8:30 – 20:30
Check in: 15:00
Check out: 11:00
If you wish you may check in earlier or check out later, only after prior arrangements.