An amalgam of love for Art and creative imagination With respect for the landscape and authentic Cretan hospitality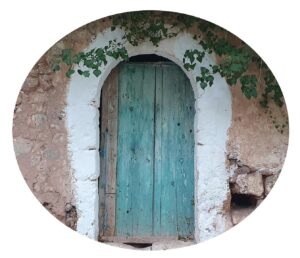 L
eaving the city lights behind, Stella and Ilias decided to settle at Kato Zakros with a view to improving their quality of life. Ilias's talent and imagination in landscape architecture and Stella's love for her birthplace combined with her innate urge for hospitality have become the vital twin force to bring forth sustainable entrepreneurship. With respect to the environment, landscape aesthetics and the traditions of Crete, keeping in mind the modern requirements of hospitality, they have created, with great toil, patience and love, a small pocket of paradise at the arid foothills of the valley at Kato Zakros. Within these impressive settings, for a decade now, they have been providing accommodation to a great number of visitors, imparting the principles of Cretan diet, music, dance and Cretan civilization.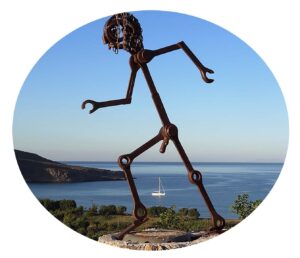 A
t Terra Minoika, Art walks hand in hand with the landscape. The plethora of artifacts can certainly be characterized as unique and original. Everything, from the architecture of buildings, stone walls and decoration to objects of everyday use speak of our dedication to Greek tradition and bear the mark of their creator's toil and love. Terra Minoika is an amalgam of love for Art and creative imagination, respect for the landscape and authentic Cretan hospitality. All of the above have turned Terra Minoika more into a work of art, rather than just another typical resort.
Sustainability and environment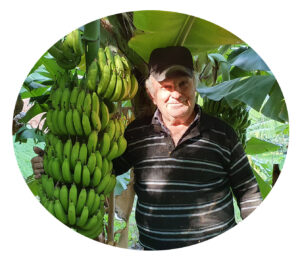 T
he Terra Minoika boutique resort, as sustainable business, engages in recycling practices and the minimization of plastic containers and single-use products. The materials used to build the resort have been excavated from the plot itself (local stone) and from a nearby area (low carbon footprint). With respect to the fact that Kato Zakros is a protected location because of the Zakros Minoan palace and through particular attention to aesthetics, the architecture of the buildings has been perfectly harmonized with the natural landscape. Many of the ornamental objects come from family heirlooms which have been restored, while others are the result of artistic intervention on recycled materials. The products used for breakfast are grown in the Terra Minoika organic gardens, which are full of aromatic herbs, olive trees (a producer of extra virgin olive oil), citrus trees, bananas, pomegranates, grapes, figs, apricots and from the family orchard. Other products come from local producers of the Geopark at Zakros and Sitia. We promote the slow-food trend and a diet of low-fat and non-processed foods. We support the sustainability of the Sitia Geopark in practice, both as sponsors and as participants in various events, sports, festivals etc. and take pains to advocate its conservation, promotion, protection and preservation. We aim to have provided our visitors upon their departure with an all-round life experience.